International Carnivorous Plant Society
Carnivorous Plant Newsletter Archive
The Carnivorous Plant Newsletter (CPN) is the official publication of the International Carnivorous Plant Society (ICPS).
CPN is a hybrid journal. It has both popular and peer reviewed scientific articles. The ICPS makes all scientific and taxonomic articles and cultivar descriptions open access from the date of publication.
Issues from 2020 | Volume 49
Issues are listed in reverse order.
Contents of the September 2020 Issue 49:3
Steve Clemesha (1942 - 2018) – the life of a plant enthusiast — Robert Gibson
Small Butterwort (Pinguicula pumila) in its natural habitat — John Bradford and George Rogers
Evidence for motile suction traps in Utricularia westonii from Utricularia subgenus Polypompholyx — Simon Poppinga and Marco Pezzotta and Andreas Fleischmann (Abstract | PDF)
Lithophytic culture of Mexican Pinguicula — Alvin Liu
Green Anoles as Sarracenia pollinators? — John Brueggen
Education corner: ICPS Photo Contest — Kenny Coogan
Sarracenia leucophylla, illustrated — Minnelli Lucy France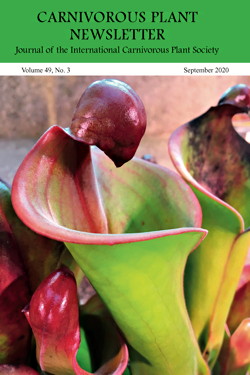 Contents of the June 2020 Issue 49:2
13th ICPS Conference - Japan: postponed until 2021 — Koji Kondo (PDF)
Preliminary identification of the agent causing the fungal disease of Aldrovanda vesiculosa — Iveta Svobodová and Lubomír Adamec (Abstract | PDF)
Pinguicula antarctica Vahl and/or Pinguicula nahuelbutensis Gluch in the Cordillera de Nahuelbuta, Chile — S. Jost Casper
True vivipary in two remarkable Pinguicula (Lentibulariaceae) from the Caribbean, P. lignicola and P. casabitoana — Paul Temple and Ivan Panco and Cristina M. Panfet Valdéz and Colmar A. Serra (Abstract | PDF)
New cultivars — Brian Lipinski and Craig Heath and Stephen Wang and Mark Rubnitz and Miroslav Srba and Michael King and Laurent Taerwe and Ivan Bogdanov (Abstract | PDF)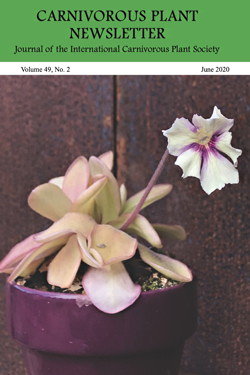 Contents of the March 2020 Issue 49:1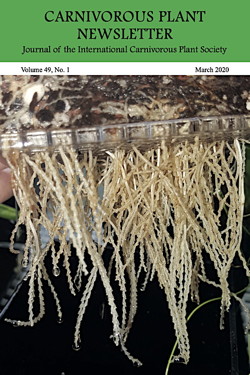 Previous — 2015-2019 | Volume 44-48