International Carnivorous Plant Society
Carnivorous Plant Newsletter Archive
The Carnivorous Plant Newsletter (CPN) is the official publication of the International Carnivorous Plant Society (ICPS).
CPN is a hybrid journal. It has both popular and peer reviewed scientific articles. The ICPS makes all scientific and taxonomic articles and cultivar descriptions open access from the date of publication.
Issues from 2020-2021 | Volume 49-50
Issues are listed in reverse order.
Contents of the September 2021 Issue 50:3
Surviving the pandemic — Alison Carrington-Tardif
World Carnivorous Plant Day: A World-wide success — Carson Trexler and Kenny Coogan (PDF)
World Carnivorous Plant Day photo contest — Kenny Coogan (PDF)
Frequency of trap closure and capture of prey by Dionaea muscipula in the field — Stephen E. Williams and Bill Scholl (Abstract | PDF)
Naphthoquinones in Pygmy Sundews (Drosera sect. Bryastrum) — Jan Schlauer and Andreas Fleischmann (Abstract | PDF)
An account of Drosera section Lasiocephala — Richard Nunn and Allen Lowrie
Carnivorous plants of Australia's Top End — Boaz Ng
Waukauyengtipu and Uchii River Uplands Expedition 2019 – report with photographic observations of carnivorous flora of the Paruima territory in the Cuyuni-Mazaruni Region of Guyana — Mateusz Wrazidlo (Abstract | PDF)
A new taxonomic rank for Drosera pedicellaris (Droseraceae) — Jan Schlauer (PDF)
Names of carnivorous plant cultivars registered in 2020 — Jan Schlauer (PDF)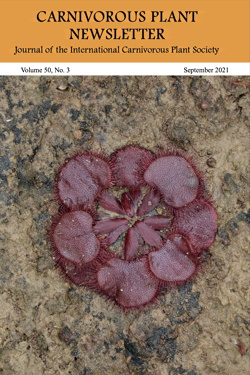 Contents of the June 2021 Issue 50:2
Splash-cups, springboards, and sink or swim – Preliminary study of the strategies for vegetative propagule dispersal in Pygmy Drosera — Greg Bourke (Abstract | PDF)
Online Guide to the Pygmy Drosera (PDF)
Can Venus flytraps be triggered to close by raindrops? — Stephen E. Williams and Bill Scholl (Abstract | PDF)
Using a trail camera for recording plant-insect interactions with Venus flytrap as an example — Stephen E. Williams and Bill Scholl
On Dipsacus and Drosera: Francis Darwin's favorite carnivores — John R. Schaefer
Re-discovering Utricularia platensis Speg. in Argentina — Danel Aranoa
A new technique for the cultivation of Cephalotus follicularis — Richard Nunn and Chiem Nguyen Anh Vu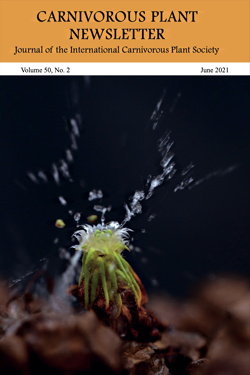 Contents of the March 2021 Issue 50:1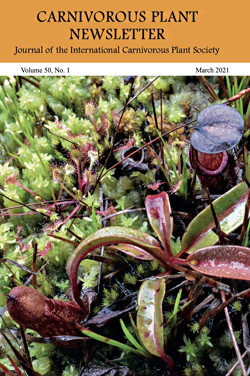 Contents of the December 2020 Issue 49:4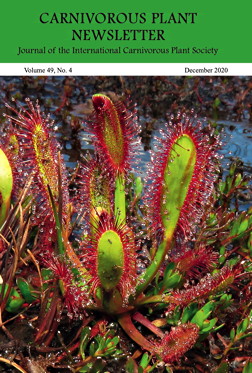 Contents of the September 2020 Issue 49:3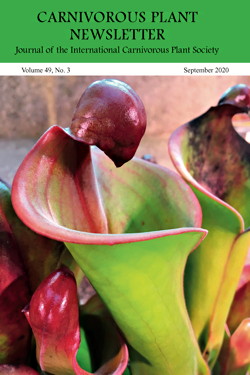 Contents of the June 2020 Issue 49:2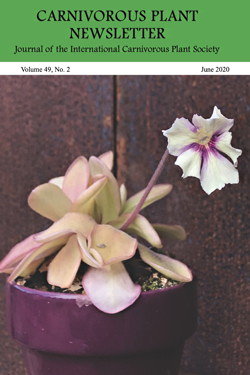 Contents of the March 2020 Issue 49:1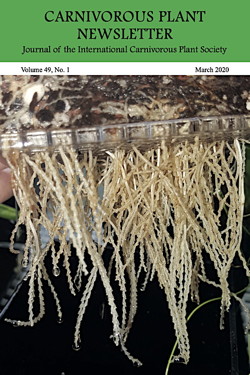 Previous — 2015-2019 | Volume 44-48