International Carnivorous Plant Society
Carnivorous Plant Newsletter Archive
The Carnivorous Plant Newsletter (CPN) is the official publication of the International Carnivorous Plant Society (ICPS).
CPN is a hybrid journal. It has both popular and peer reviewed scientific articles. The ICPS makes all scientific and taxonomic articles and cultivar descriptions open access from the date of publication.
If you need a copy of an embargoed article for scholarly purposes, please contact us using our membership website, icps.clubexpress.com.
Issues from 2020-2021 | Volume 49-50
Issues are listed in reverse order.
Contents of Volume 50 Number 4, December 2021
2021 ICPS Lifetime Achievement Award Professor Dr. Siegfried Jost Casper — Richard Nunn (PDF)
Siegfried Jost Casper (1929–2021) — Andreas Fleischmann and Jan Schlauer and Hermann Manitz (PDF)
My first experience with the genus Pinguicula and the manuscripts of Jost Casper — Hans Luhrs
On the occasion of the death of Prof. Dr. phil. Siegfried Jost Casper (1929–2021) — Jürg Steiger (PDF)
First record of overlap between two species of Pinguicula in the Andean Patagonian forest — Federico Ezequiel Parrilli and María Victoria Coppini (Abstract | PDF)
Additional features for the recently described Pinguicula (Lentibulariaceae) species from Spain — Aymeric Roccia (Abstract | PDF)
An interesting example of Pinguicula macroceras from Vancouver Island, Canada — Chad Kreutzenstein and Justin Dunning
Pinguicula in the Lower 48: Habitat Notes — Barry A. Rice
13th ICPS Conference, May 13−15, 2022, Himeji, Japan — Koji Kondo (PDF)
A short profile on Triantha (Nutt.) Baker with a focus on T. occidentalis (S.Watson) R.R. Gates — Barry A. Rice
Obituary: Allen Lowrie 1948 – 2021 — Richard Nunn (PDF)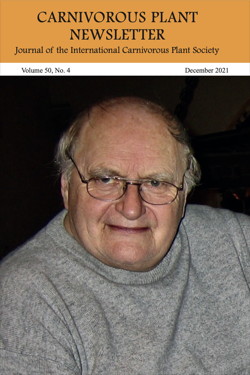 Contents of Volume 50 Number 3, September 2021
Surviving the pandemic — Alison Carrington-Tardif
World Carnivorous Plant Day: A World-wide success — Carson Trexler and Kenny Coogan (PDF)
World Carnivorous Plant Day photo contest — Kenny Coogan (PDF)
Frequency of trap closure and capture of prey by Dionaea muscipula in the field — Stephen E. Williams and Bill Scholl (Abstract | PDF)
Naphthoquinones in Pygmy Sundews (Drosera sect. Bryastrum) — Jan Schlauer and Andreas Fleischmann (Abstract | PDF)
An account of Drosera section Lasiocephala — Richard Nunn and Allen Lowrie
Carnivorous plants of Australia's Top End — Boaz Ng
Waukauyengtipu and Uchii River Uplands Expedition 2019 – report with photographic observations of carnivorous flora of the Paruima territory in the Cuyuni-Mazaruni Region of Guyana — Mateusz Wrazidlo (Abstract | PDF)
A new taxonomic rank for Drosera pedicellaris (Droseraceae) — Jan Schlauer (PDF)
Names of carnivorous plant cultivars registered in 2020 — Jan Schlauer (PDF)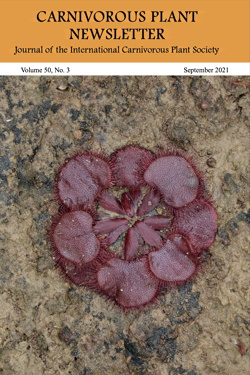 Contents of Volume 50 Number 2, June 2021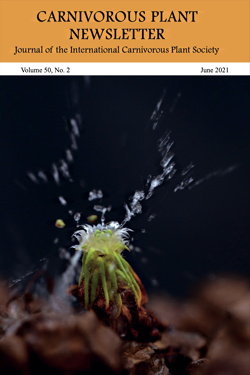 Contents of Volume 50 Number 1, March 2021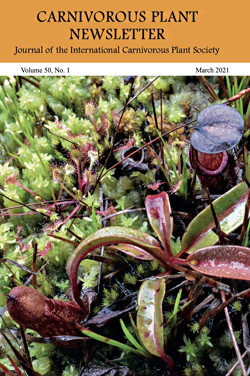 Contents of Volume 49 Number 4, December 2020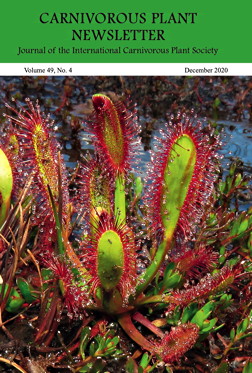 Contents of Volume 49 Number 3, September 2020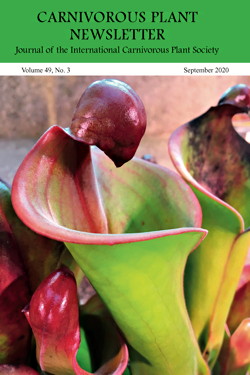 Contents of Volume 49 Number 2, June 2020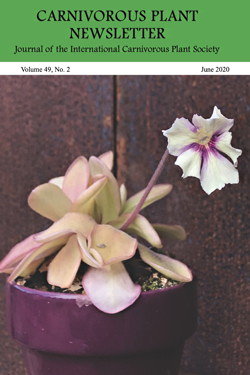 Contents of Volume 49 Number 1, March 2020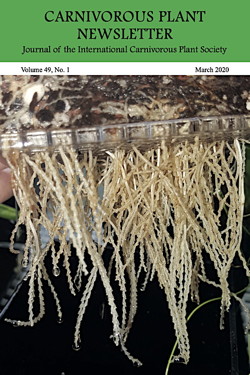 Previous — 2015-2019 | Volume 44-48