International Carnivorous Plant Society
Carnivorous Plant Newsletter Archive
The Carnivorous Plant Newsletter (CPN) is the official publication of the International Carnivorous Plant Society (ICPS).
CPN is a hybrid journal. It has both popular and peer reviewed scientific articles. The ICPS makes all scientific and taxonomic articles and cultivar descriptions open access from the date of publication. Other articles are embargoed for 6 months after the issue date.
Issues from 2020-2022 | Volume 49-51
If you need a copy of an embargoed article for scholarly purposes, please contact us using our membership website, icps.clubexpress.com.
Issues are listed in reverse order.
Contents of Volume 51 Number 4, December 2022
Proboscidea and Dicyphini: An example of spontaneous mutualism by a population of predatory bugs inhabiting a sticky plant — Siegfried R. H. Hartmeyer and Irmgard Hartmeyer (Abstract | PDF)
The taxonomic relevance of Naphthoquinones in tropical pitcher plants (Nepenthes L., Nepenthaceae) — Jan Schlauer and Andreas Wistuba and Siegfried R. H. Hartmeyer and Irmgard Hartmeyer (Abstract | PDF)
Microscopic features useful for identifying Utricularia native to the western USA, with an emphasis on the bladder quadrifid glands — Barry Rice
Variation in Triantha occidentalis (S.Watson) R.R.Gates characteristics in California — Barry Rice
Hunting the king – Drosera regia trip report — Hendré Barnard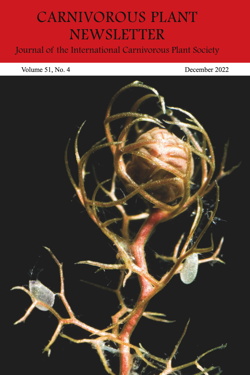 Contents of Volume 51 Number 3, September 2022
Informational email from the ICPS — John Brittnacher
An account of the antennae-flowered Utricularia of northern Australia — Richard Nunn (Abstract | PDF)
Grow Genlisea so you can see the traps — John Brittnacher
Deli display case converted into a carnivorous plant highland chamber — James Falconio
An interview with Margaret Cho — Kenny Coogan
New cultivars — Sunya Nuanlaong and Milan Del Buono and Howard Bramble and Pietro Falchi and Laurens Eggen and Mike Howlett and Andrés Rodrigo Caldas Enriquez (Abstract | PDF)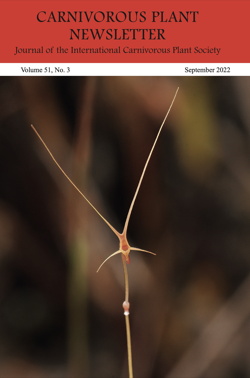 Contents of Volume 51 Number 2, June 2022
Contents of Volume 51 Number 1, March 2022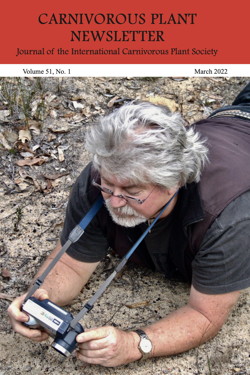 Contents of Volume 50 Number 4, December 2021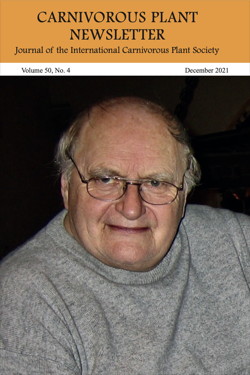 Contents of Volume 50 Number 3, September 2021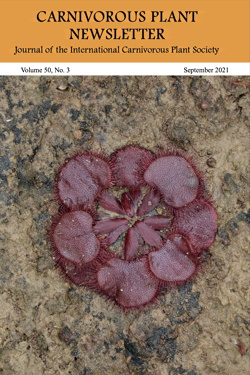 Contents of Volume 50 Number 2, June 2021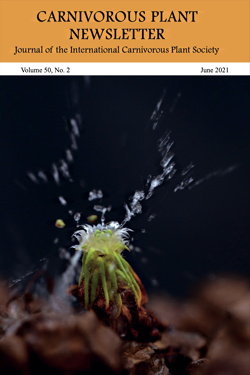 Contents of Volume 50 Number 1, March 2021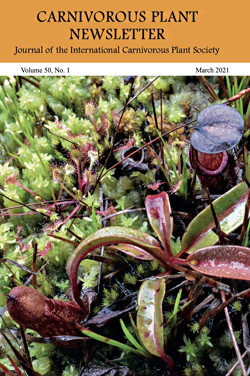 Contents of Volume 49 Number 4, December 2020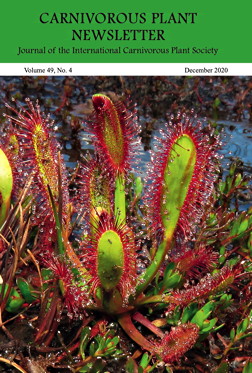 Contents of Volume 49 Number 3, September 2020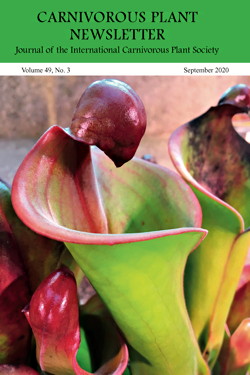 Contents of Volume 49 Number 2, June 2020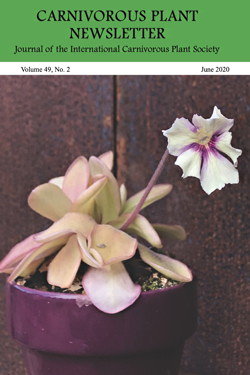 Contents of Volume 49 Number 1, March 2020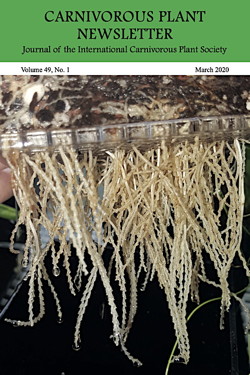 Previous — 2015-2019 | Volume 44-48